Dried Orange Garlands are one of our households go-to Christmas decorations- they are gorgeous, they are easy to make and they cause your house to smell divine in the process (if you like Orange!). It's a great eco-christmas decoration and the slices can be used in other creative ways too.
This can be done with kids though they will need help as it involves using a sharp knife.
What you will need:
2-3 Oranges
Oven
Knife
Wire Rack
Baking Paper and tray.
Cinnamon Sticks
To cook:
Preheat your oven to a low setting (max 110c).
Slice your oranges to roughly 1cm thick.
Pat your slices with kitchen towel or a tea towel to remove as much moisture as you can, then lay out on the wire rack.
On a tray, cover with baking paper. Then place the wire rack with your oranges on top. (The baking paper is underneath the rack to stop the orange juice sticking to the bottom of your oven.)
Place in the oven and leave for 3-4 hours (time will depend on the thickness of your fruit).
Turn them over occasionally to prevent them from sticking to the wire rack.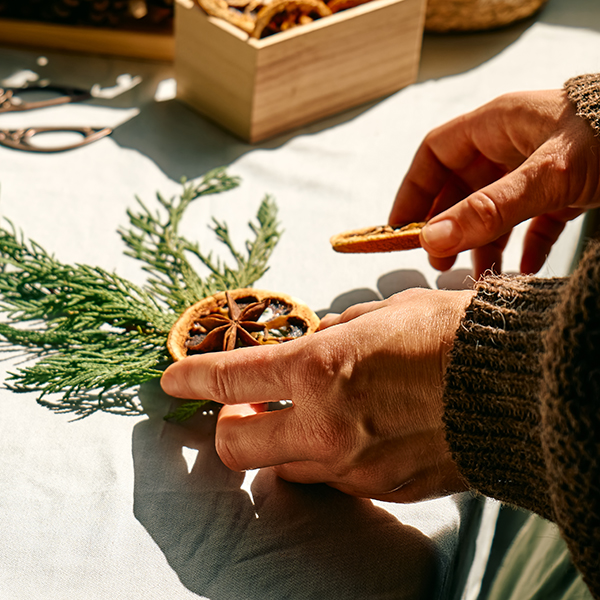 Assembling your Garland:
This is a great time to get creative and tailor your garland to your decorations and tastes! You could add cinnamon sticks, dried pine cones, other dried fruits such as pears, limes, lemons (process is the same), greenery and more! Theres some inspo below.
To create a garland, use your string and a thick needle to pass through the slices and any other items such as cinnamon sticks. You can make knots to keep items in place.
To create a wreath, buy a wire wreath circle and attach foliage etc using string to your wire.