Brazil Nut Roast En Croûte
This is another family favourite, especially with the veggies, but even the meat-lovers enjoy this dish at Christmas. Its also great served cold the next day with some mango chutney whipped into sour cream! Boxing day leftovers never tasted so good….
Serves 8
Ingredients:
For the Nut Roast:
2 large onions, peeled and chopped
50g butter or vegan marg
450g brazil nuts (shelled and ground)
225g fresh fine breadcrumbs
1/2 teaspoon dried thyme
3 tbsp lemon juice
2 eggs (optional)
Pinch of nutmeg, ground cloves and cinnamon.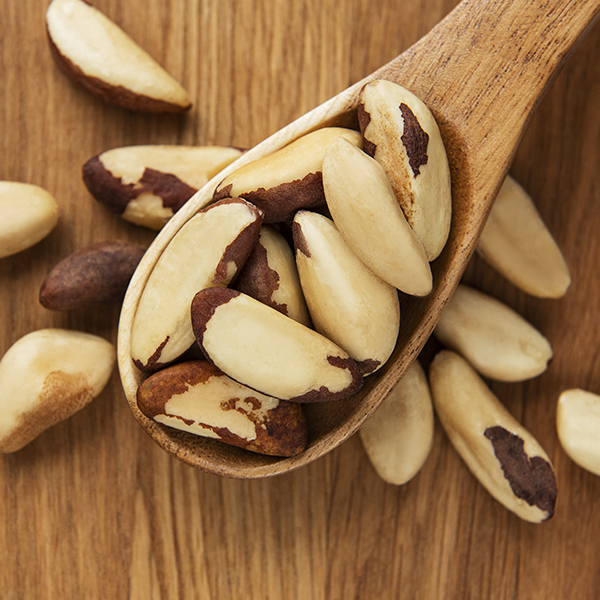 For the stuffing:
225g fresh fine white breadcrumbs
25g chopped parsley
Grated rind of 1 lemon
1 tbsp lemon juice
1 tsp of each; dried thyme and marjoram
1 tbsp grated onion
75g butter or vegan marg
To Prepare:
450g frozen puff pastry
Beaten Egg to glaze
Method:
Preheat the oven to 200C/400F/Gas Mark 6
To make the nut roast, fry the onion in the butter or vegan marg for 10 mins or until soft (but not browned).
Remove from the heat and add the rest of the nut roast ingredients and season.
Make the stuffing my mixing all the ingredients together to make a soft mixture which holds together and season.
Roll out the pastry on a floured board to a 30x35cm rectangle (roughly).
Form the stuffing into a sausage about 25cm long place down the middle of the pastry. Pile the nut roast mixture all over the stuffing, covering it.
Fold the ends of the pastry to enclose it completely and tuck in the ends.
Then place on a damp baking tray and sheet, with the joins side down.
Score a lattice on the top and/or decorate with extra pastry.
Make one or two steam holes, and brush with beaten egg (if using).
Bake for 30 minutes until crisp and golden.
Garnish to serve however you like.
Enjoy!
Recipe: Rose Elliot's Vegetarian Cookbook.