Gingerbread cookies are THE classic christmas desert and also great fun to decorate and use for your christmas decorations!
The recipe is for cookies, but we'll give you tips on how you can turn these into decorations to hang on your tree, too!
Grab your cookie cutters and get ready to bring some joy to your biscuit tin this christmas.
(Recipe creates aprox. 30 cookies, takes 20 mins to prep and 10 mins to cook)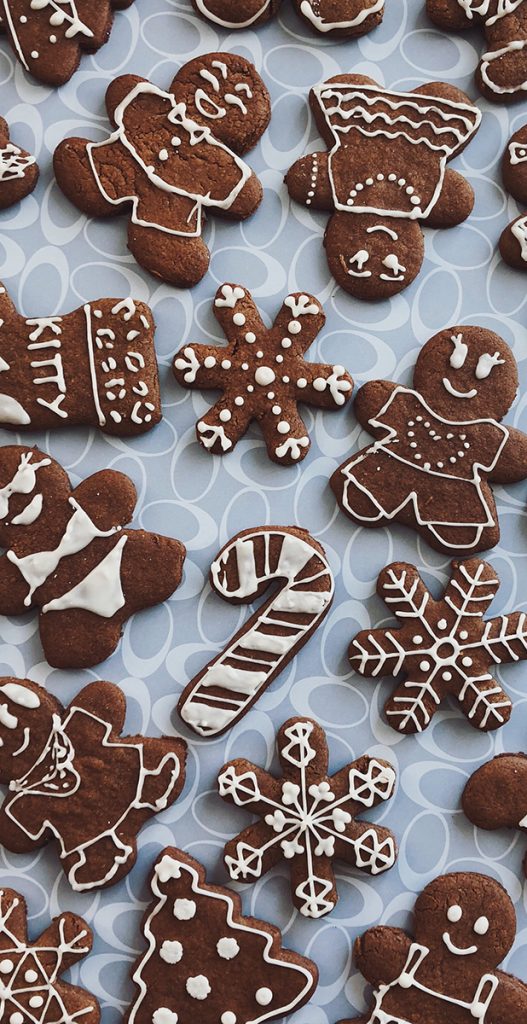 Ingredients:
113g of margarine
105g sugar
170g molasses
1 egg yolk
256g of all-purpose flour
1/2 teaspoon salt
1/2 teaspoon baking powder
1/2 teaspoon baking soda
1/2 teaspoon ground cinnamon
1 teaspoon ground cloves
1 teaspoon ground ginger
1/2 teaspoon ground nutmeg
To Decorate:
White Writing Icing
String
Method:
In a large bowl, mix together the margarine and sugar until smooth. Stir in the molasses and egg yolk.
In another bowl, combine the flour, salt, baking powder and soda, cinnamon, cloves, ginger and nutmeg, and blend into the molasses mixture until smooth.
Cover and chill for at least one hour.
Preheat your oven to 175C.
On a floured surface, roll the dough to 1/4 inch thickness.
Cut into your desired shapes with cookie cutters.
If you are using these as decorations and want to hang them, use a straw to make a hole at the top of the cookie so that you can thread your string through.
Place the cookies 2 inches apart on greased baking paper.
Bake for 8-10minutes until firm.
Remove from the sheet and cool on wire racks.
To decorate:
When the cookies are cooled, use the white writing icing to decorate. Let them set.
Once the writing has set, thread your string through (if using) and hang on the tree.
Enjoy!