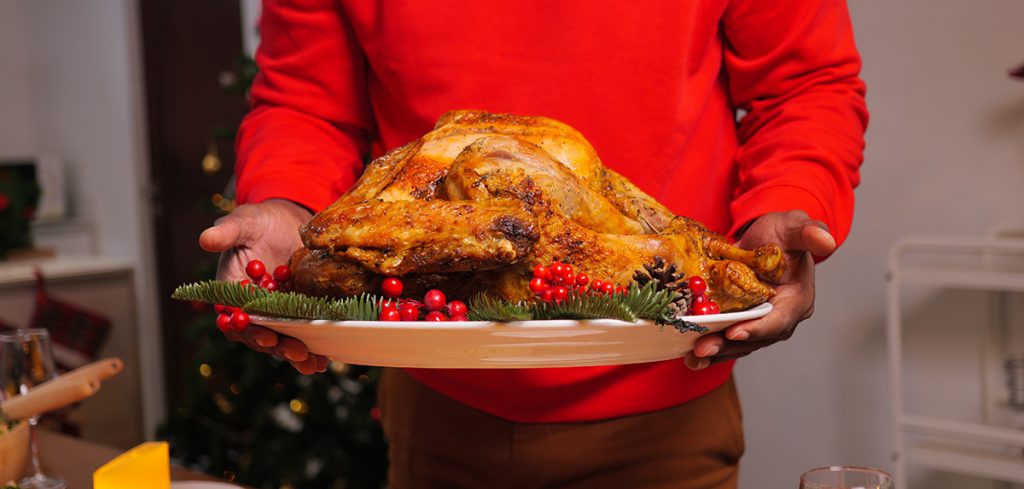 A Roast Turkey is arguably one of the most popular Christmas Dinner favourites, and we've compiled a few different recipes to bring you some festive options for your Turkey Roast this year. Don't forget to weigh your Turkey when stuffed and adjust the cooking time accordingly- check our blog here for all the info you need!
Turkey
Stuffing
Salt and Pepper
1 Onion (peeled and cut into wedges)
Bunch of Fresh Herbs
50g Soft Butter
Streaky bacon (6-10 slices)
For a Glaze:
4tbsp Honey
1 tbsp Dijon Mustard
1 tbsp red wine vinegar
Pinch of cloves
Method:
Remove the turkey from the fridge and leave to cool to room temperature (1-2hours).
Preheat your oven to 180C and wipe the inside and outside of your Turkey with a damp cloth or paper towel.
Using your fingers, lift the skin away from the flesh of the Turkey so that you can you place your stuffing in-between. Start from the neck and gently push the stuffing in. You may need to secure the skin again by sewing it or placing small skewers at the end.
(Alternatively, you can stuff the cavity- just make sure you cook for longer and that there is space between the top of the stuffing and the top of the cavity- approx the space for a wooden spoon).
If you stuffed the skin, place the chopped onion and herbs into the cavity, this will season your roast nicely from inside.
Weigh the turkey and adjust your cooking time appropriately.
Place in a roasting tin and cover the skin in the butter.
If using bacon- spread on top- you can get creative and even lattice the bacon across the Turkey!
Cover with Foil to make a tent- you want some space between the top of the turkey and the foil.
Place in the oven and cook.
If using the glaze, mix the ingredients together and cover the turkey with half of the glaze 30mins into cooking.
If using the glaze, during cooking cover twice more in glaze intermittently.
For the last 40minutes of cooking, remove the foil and baste regularly with the excess turkey juices in the bottom of the dish.
You will know the turkey is cooked when the juices run clear when pierced with a skewer.
Transfer to a platter, cover with foil or a tea towel and leave to cool for around 15 minutes.
Serve and enjoy!
Top Tip: Save the juices from the Turkey to make Gravy with!
For more Turkey Recipes: BBCFood. British Poultry Council. BBC GoodFood.