This is a family favourite at our dinner table at Christmas time. We always fight over the last ones, and they only last 2 minutes on the dish! I'd recommend making double if your family are parsnip mad like we are! The great thing about this recipe is that you can prepare them in advance and freeze them ahead of christmas day, so that all you need to do is cook them when you want to eat them.
Its from Delia Smith's Christmas cookbook- we'd recommend! – The Williams Family
Serves 8 people.
Ingredients:
1.25kg parsnips
175g plain flour
50g grated parmesan cheese
Salt and Pepper
Groundnut or other Oil
A knob of butter
Method:
Combine the flour, parmesan cheese, salt and pepper in a mixing bowl.
Peel your parsnips (potato peeler works well).
Half and quarter them lengthways and cut each of those in half so that they are smallish chunks.
Cut out some of the tough woody centres.
Put the saucepans in a pan of boiling water so that they are covered and add salt.
Put a lid on, bring to the boil and boil for 3 minutes.
Have a tray ready, and when the parsnips are cooked, drain in a colander.
Whilst they are still steaming (this is key!), roll them in the parmesan mixture so that they are evenly and well coated.
When their all coated, they are ready to cook or freeze.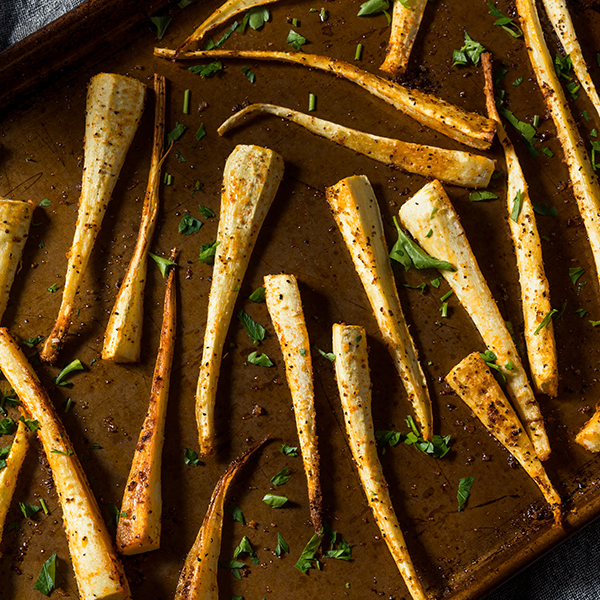 To Cook:
Place the large solid roasting tin in the oven and preheat the oil with a knob of butter also in the tin.
Once the oil is heated, tip the parsnips in and baste in the oil and cook for 20 mins.
Turn them over and remove any excess oil and then cook for further 15-20 mins or until crisp and golden.
Enjoy!