Christmas Cake Spectacular!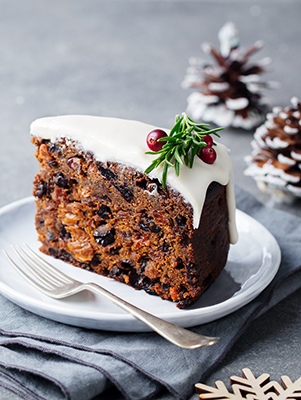 Christmas cake is one of those favourite recipes around the festive season, and this is a great way to make it look slightly more fun and a little different to the usual decoration!
We're combing BBC Good Foods Decorating Recipe and Mary Berry's (obvs) fruit cake recipe to bring you a Christmas Cake Spectacular this year!
(Hint: The recipe requires you soaking the fruit for 3 days and storing for a month or more- though this bit isn't imperative but it will add flavour!)
Mary Berry's Fruit Cake:
Ingredients:
175g raisins
350g natural glacé cherries (halved, rinsed and dried)
500g currants
350g sultanas
150ml brand or sherry
2 oranges (zest only)
250g softened butter
250g light or dark muscovado sugar
4 large free-range eggs, room temperature
1bsp black treacle
75g blanched almonds, chopped
275g plain flour
1 1/2 tsp mixed spice
Method:
Place all the dried fruit, including the cherries, into a large mixing bowl, pour over the brandy and stir in the orange zest. Cover with clingfilm and leave to soak for three days, stirring daily.
Grease and line a 23cm/9inch deep round tin with a double layer of greased greaseproof paper. Preheat the oven to 140C/120C Fan/Gas 1.
Beat together the butter, sugar, eggs, treacle and almonds into a large bowl. Add the flour and ground spice and mix throughly until blended.
Stir in the soaked fruit and spoon into the tin, smoothing to make it level.
Bake in the centre of your oven for 4-4 1/2 hours or until it feels firm to the touch and is golden brown. A skewer should come out clean. Once cooked, remove from oven and cool in the tin.
Once cooled, pierce the cake and feed it with a little extra brandy.
Wrap the cold cake in a double layer of greaseproof paper and foil and store in a cool place for up to three months.
Fondant decoration:
Ingredients:
500g ready-to-roll white fondant icing
2 tbsp smooth apricot jam
Red and Green food colouring gels
Edible Gold leaf (optional)
Method:
Roll the fondant out to thickness of £1 coin. Using the cake tin you cooked the cake in as a template, cut out a circle from the fondant. Then about the third of the way down the circle, cut horizontally across in an undulating line to create the dripping effect.
Warm the jam in a small pan to heat until it has loosened and brush on top of the fruit cake. Place the fondant icing you have cut on top- the jam acts as the glue.
Using some icing offcuts, colour some icing using red-food colouring and roll into one or two balls to create the berries.
Repeat the same but using green food colouring and roll out. Then cut them into holly leaf shape and using a blunt knife, create the lines for the leaves.
Using the jam, glue the berries and leaves to the top, and dust with gold leaf if desired.
Enjoy!
Alternatively:
You can cut your icing to cover the whole cake, and then using a cookie cutter, cut out shapes to create a different design!
You could use stars to create a night sky, christmas trees to create a forest scene, or more!